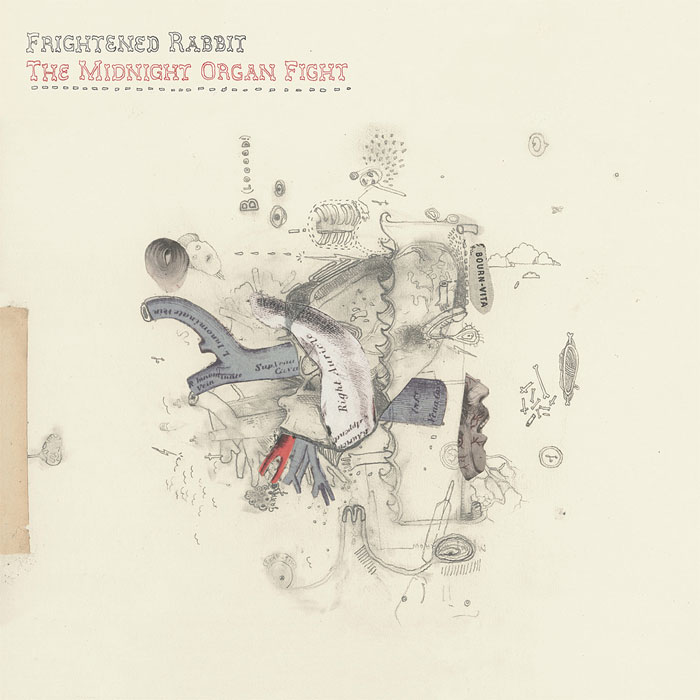 Frightened Rabbit
The Midnight Organ Fight
After five months of constantly listening to Frightened Rabbit's Midnight Organ Fight, I still find myself untangling its contradictions and unraveling its many layers. Which is quite amazing considering my hyperactive listening habits.
I've finally figured out why I like the album so much: it is, more or less, the soundtrack to my life. It simultaneously encompasses the good times and the bad, the highs and lows. Despite this contradiction, or maybe because of it, Midnight Organ Fight always inspires. It's a strange phenomenon: the louder I play it, the better I feel.
Like most great albums, Midnight Organ Fight reveals itself in layers. It took nearly a dozen listens before I could distinguish individual songs. Had I written this review back then, my favorite tracks probably would've been "Good Arms vs. Bad Arms" and "Poke." Now I can't decide. My favorite songs seem to change every time I listen to the album.
Frightened Rabbit hails from Scotland, a fact immediately confirmed by Scott Hutchison's vocals. Thankfully, his accent is noticeable but not overwhelming. In fact, it often adds an extra dimension to the music. I love the way he stretches out random words and phrases. At times, his voice nearly buckles under the weight of emotion.
The lyrics inhabit the gray area between breaking up and getting back together (which helps explain all the contradiction). On "The Twist" Hutchison sings, "It's the night, I can be who you like / And I'll quietly leave before it gets light." Later, he asserts, "I need company / I need human heat." But then on "Keep Yourself Warm" he belts out, "It takes more than fucking someone you don't know to keep warm." So which is it? Anyone who's ever inhabited this gray area knows it's actually both.
Last but certainly not least is the music. The wailing guitars in "Good Arms vs. Bad Arms," the hypnotic piano melody at the end of "The Twist," the slow steady build in "Backwards Walk," and the simpleness of "Poke." It's overwhelming at first, but with repeated listens the layers start peeling apart. Soon, you will find yourself coming back for even more of exactly the same.